If you are considering painting your child's bedroom, the possibilities of paint colors to choose from are endless. Children have wild imaginations and if you let them choose the color, it's hard to predict what you might end up with. However, we put together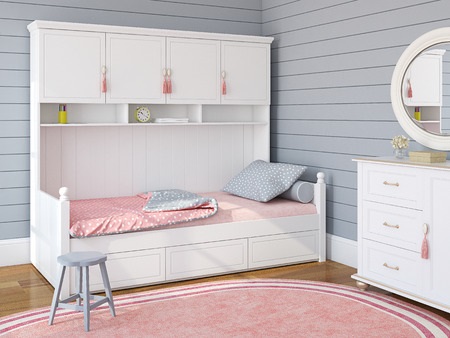 a few options of paint colors that are ideal for children's rooms. Show a few of these options to your little one and let them choose their favorite.
Any Neutral Color
Most neutral colors are thought to be too boring or dull for a children's bedroom. Nevertheless, you can use neutrals to your advantage. Neutral colors play very well with others, and they can serve as a foundation for bold accents. You can easily incorporate blue, purple, pink, or green accents into a neutral colored room. As your child grows, you can then replace those colorful accents with tasteful draperies or a bold throw rug.
Purple
Purple is great for a little girl's room as an alternative to the expected "princess pink." Light purple can give off a very sophisticated look and will age well as the years pass. Your child won't be as eager to repaint their bedroom as they grow, which might be the case with ballerina pink.
Deep Blue
Although many people paint a baby boy's nursey a light powder blue, there's still room to experiment with other shades of blue. A deep, marine blue that isn't too dark will stand out boldly next to white trim. As your child grows, you can incorporate shades of dark green to bring the room a "grown-up" appearance.
Pastel Yellow
Children are vibrant, youthful, and fun. It is why we cherish them so much. Yellow walls can be just as fun if you choose the right shade. A pastel yellow with traces of white can be easily paired with other pastels to create a space as energetic as your child is. Yellow can also be made into a guest room, a play room, or a teenager's bedroom further down the line.
If you are planning to paint the interior or exterior of your home, contact Richard Stewart Painting to do the job for you.