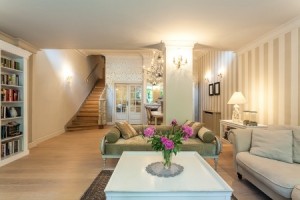 Painting an open concept home can be a challenge. The flowing of space to space without a clear divide can be difficult when choosing paint colors. Most homeowners want each room to be unique, but also cohesive and coordinated. Below, we offer some of our top three tips for painting an open concept home:
Use the same color family, but different shades
Transitioning color from one room to another can look seamless and streamline with the correct colors. Light, medium, and dark shades of paint all from one color family is the perfect way to make each space special, but still consistent with the one before.
Start at the corners
Beginning the new color at the corners where each "room" meets is a simple way to evolve from one space to another. Accent colored cabinets, backsplashes, or furniture pieces are a simple way to give any space a pop of color without taking the complete commitment of an entire wall.
Keep it balanced
Remember to always keep your home balanced. Too much of the same color or too wild of a pop can throw an entire space off.
Richard Stewart Painting can help you pick and paint the best colors for your open concept home. Contact us today to learn more!