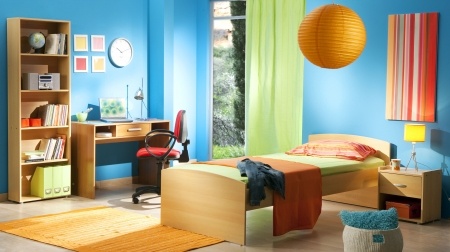 There are few rooms more fun to paint and decorate than children's room, and this comes down to one simple reason: kids are fearless when it comes to color.
There are many incredible ways you can design your child's room. Here are some tips to get you started:
Let Your Child's Personality Shine Through
Whether you are deciding on the color of the walls or accent pieces you will include, let your child help you make all the big decisions about their space. Are they a sports fan? Frame a poster of their favorite sports star and hang it on the wall. Do they love to read? Install a few shelves where they can stack their most-loved books. Including your child in the decorating process will help to ensure this is a room they will enjoy spending time in, and it is an enjoyable way for the two of you to spend some time together.
Tone Down Bold Walls with Neutral Furniture
Nervous that the bright orange hue your child loves is too overpowering? We recommend pairing it with neutral accents. A simple wood furniture set will look great no matter what design changes occur over the years, and will tone down the intensity of a bold wall color.
Regardless of the colors you choose to decorate your child's room in, Richard Stewart Painting is here to help you get the job done. To learn more about our services and set up your next painting project, call our Los Angeles office at 1-818-951-1181.